This wine is produced only once or twice a decade, in the finest years, when the weather conditions allow the grapes to become more and more concentrated, whilst maintaining a vibrant acidity to balance the sweetness. Then only the best barrels are chosen.
Many people prefer it to Sauternes as the intense flavours are in perfect balance with the fresh acidity and a lighter level of alcohol (11.5% alc vol).
This is the quintessence of Cabidos.
Appearance
A beautiful deep golden colour.
Nose
Rich and intense aromas of dried fruit, such as fig and especially apricot.
Palate
An exceptional wine with huge concentration, excellent balancing acidity and a very long finish.
Cellaring
It can be kept for up to 15 years but is very enjoyable now.
Food and wine matching
A veritable nectar to be sipped in contemplation...
---
Rewards
L'Or de Cabidos 2011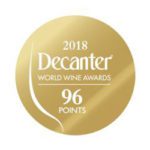 Check out all the awards

Le maître de chai se transforme en orfèvre pour façonner ce bijou qu'est l'Or de Cabidos !